By Peter Scott, Head of Construction and Engineering, McLarens
One of the perennial problems for contractors in the construction sector – and one that can cause headaches for their brokers and underwriters alike – is poor supply chain management, particularly relating to the appointment of subcontractors below them.
With major projects there have always been owner-controlled insurance programmes (OCIPs) that are designed to cover the employer, the main contractor, and all subcontractors. However, it is sometimes the case the main contractors or a principal subcontractor's procurement team construct contracts that do not pass the benefits of the OCIP down to the subcontractors. Subcontract documents are instead produced requiring the subcontractor to be responsible for the insurance of the subcontract works, and the subcontractor may or may not have the adequate cover for such eventualities. Indeed, it is surprising how many contractors do not look at their contract insurance clauses until a claim needs to be issued.
Contractors should know everything about the insurance and risk involved in any construction contract.
Contractual Risks
With this in mind, contractors – and indeed their brokers – should make sure they know everything about the insurance and risk involved in any construction contract. These can vary significantly, depending on the contract. Even for subcontractors under a Joint Contracts Tribunal (JCT) form of contract, which generally provides more certainty as it offers the benefit of the main contractor's insurances in respect of JCT-specified perils, the list of specified perils often does not cover all aspects and in particular perils such as theft, malicious damage and impact. For more bespoke contracts, the potential insurance pitfalls are even greater.
When standard forms of contract, such as JCT and NEC, are used up and down the contractual chain, meaning back-to-back agreements are in place, there are generally fewer problems. Contractors tend to be good at including terms and conditions in the subcontract relating to employer's liability, public and products liability, and professional indemnity insurance.
That said, we often see a lack of appropriate terms to deal with the material damage of the contract/subcontract works. Primary contractors often require the subcontractor to insure the subcontract works and sometimes equipment, with most policies including some sort of 'indemnity to principals' clause, which covers that aspect where required to do so by contract. However, there are insurance policies around that do not automatically include such an additional clause. For example, where a specialist supplier is asked to carry out installation works, they may have a cargo policy with an extension to cover installation works. It is rare, however, for such an extensions to automatically have a principals' indemnity clause involve, with the onus generally being on the supplier (or indeed their broker) to ensure that it is included, if required.
On contracts involving existing structure/existing property on site, it is important to recognise the standard JCT approach is for the employer to take out the insurance for both the contract works and for the existing structures. These existing structures are not always building for refurbishment but may involve structures such as retaining walls, which may or may not be worked on during the contract. In such cases the employer should be advised to take out any cover they with to in connection with such existing structures. They will not be covered by the insurance of the contractor of their subcontractors unless they are damaged as a result of negligence.
Lessons
So what is the lesson from all of this? It goes without saying construction is an area where specialist brokers have a key role to play. Indeed, it is crucial that brokers and their contractor clients make sure that appropriate cover is in place to cover all eventualities and that all contracts are reviewed with the correct limits in place. This should even include factors such as deciding who pays for the excess on an owner-controlled insurance programme. It is not unknown for the main contractors to blame everything on the subcontractors and it is therefore important that these organisations make sure that they have the correct and appropriate insurances in place. Failure to do so could result in serious problems and difficulties for that contractor.
Covering the Contractual Chain article originally appeared in Insurance Day magazine on 8 June 2015.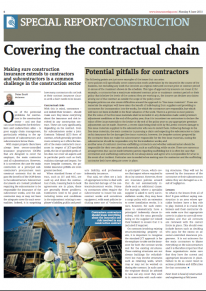 Covering the Contractual Chain
Click here to download the PDF.